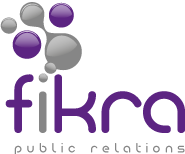 To complete its chain of integrated media services, Fikra group established a Public Relations and Event Management division in 2003.
Public relation is defined as "the art and science of managing communication between an organization and its key publics to build, manage and sustain its positive image."
Fikra public relations (FPR) is a leading Saudi public relations consultancy with offices in Jeddah, Riyadh, Dubai and a regional network across the Middle East.
A part of Fikra's Media Consultancy Group, FPR has over 40 employees from 6 different nationalities and is a strategic communications partner for many high profile clients.
OUR VISION
To be a leading public relations firm that provides culturally adaptive, innovative, creative, and credible PR solutions that address client needs.